News
Announcement: We have two training sessions for "Silicone Vacuum" on Tuesday and Wednesday, September 29-30, a total of two rounds, 1 full day each. ***
Resuable Silicone Bagging
February 17 2022 at 03:38am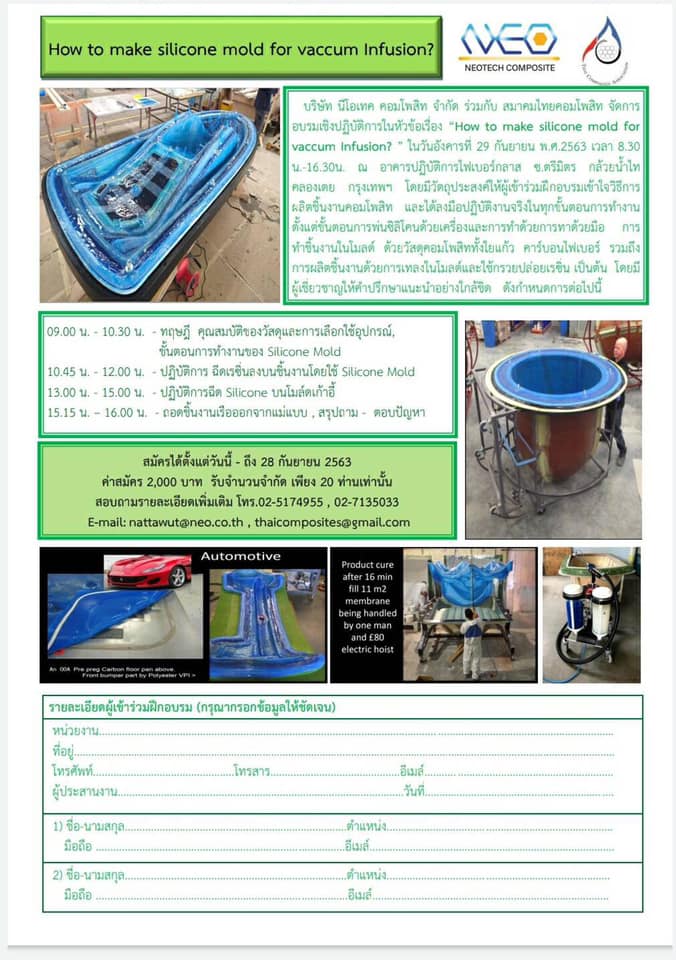 Announcement: We have two training sessions for "Silicone Vacuum" on Tuesday and Wednesday, September 29-30, a total of two rounds, 1 full day each. ***

Neotech Co., Ltd. together with Thai Composite Association

New technology from England

Teach both theory and practice

From the process of making a work piece in a mold

spraying silicone by machine

making by hand

Production of specimens by pouring into molds and using resin discharge funnels.

The event will be held on Tuesday-Wednesday 29-30 September 2020.

At the Thai Composite Association, Soi Trimit, Rama 4 Road, Bangkok

Training fee 2000 baht per person.

Limited to 20 people only.

Interested in signing up in advance?
http://www.fiberglassthai.com/contact%20us/map-tca.jpg

Properties of silicone moles

Silicone moles (Silicone Bagging) performance superior to normal moles, easy to peel, easy to clean. Can be reused 1000 times Do not use consumables

Easy to produce, fast, clean, no bad smell, environmentally friendly. Because it is food grade silicone, strong, resistant to high temperature of 230 c.

Then you will fall in love with silicone mold.