Resins specifically made for molding,
"Nord Composites Tooling Resin"
Nowadays, the production of fiberglass mold in Thailand usually uses regular resins in the market. Sometimes, with higher quality resins than normal ones. But the problem of unequal shrinkage still occurs. This causes the mold to not have an exact desired shape. Therefore, mold allowances must be made and the molds needed to be modified accordingly, resulting in unstable, delayed, time-consuming, and costly work, as well as being unable to produce molds quickly and with unequal sizes. If you want multiple molds in order to be able to produce workpieces faster, you need to use the resin made specifically for molding.

Nowadays, "tooling/molding resins" are produced specifically for mold making and are wildly used in foreign countries. Tooling resin has properties suitable for mold production especially as follows:
• No shrinkage at all after the resin has hardened
• Work fast, can make the whole mold in one day.
• Able to produce molds that are strong, durable and have a long service life.
• It is a type of resin that is mixed with catalyst and filler
• Usability is the same as general resin.
• Create the surface of the workpiece perfectly
• See the color indicator change when hardening
• Make production quickly. This is to reduce the cost of making molds.
• Longer service life than mold from the common fiberglass mold
• Fixed size and proportion.
• Can be stored like normal resin which the fillers won't be separated.
• If a resin with higher performance is required, the resin and gel coat in vinyl ester type are available
Norester RM 2000/50 is a specially formulated unsaturated polyester resin. It is designed for the production of high quality molds with a long service life. In order to produce fiberglass mold, this molding resin is perfectly capable of solidification at room temperature. This makes it possible to create a template that does not shrink and does not see the fiber layer on the surface at all. Therefore, it is truly a 0% shrinkage resin because the reaction is fast and the ease of operation of the RM2000/50 makes it possible to produce multiple molds within one day.
Instructions for making a mold
Preparation the surface of the plug (the "male" replica of the final part you are planning to make). There must be no air bubbles, defects, or any disheveled parts. Also you need to use a suitable mold release agent to prepare the skin.

Painting the tooling gel coat. Tooling gel coats are suitable to last throughout the lifespan of the mold. GC 206/207 is a vinyl ester gel coat. It (GC 207) can be applied by spraying or with a brush (GC 206). You can choose either blue or orange color. The thickness of the gel coat should be between 600-800 micron (0.6-0.8 mm). The gel coat should be fully hardened before applying the reinforcing fiber layer

Applying the first-layer resin. The first layer resin is a special resin that combines the gel coat and the molding resin. It makes the surface of the mold more durable to use. Applying the first layer of fiber is very important, you must roll the fibers to completely stick with the mold by having to expel all air bubbles which can use:
• 1 surface fiber layer or 1 layer of chopped strand mat fiber 200-300 g/sqm (powder type or Emulsion type) with Vinylester resin Norester 680.
• Once the first layer of Norester 680 has been applied, it should be allowed to harden completely before reinforced with Norester RM2000/50.

Norester RM2000/50 with hardener (Catalyst)
Before use, the RM2000/50 must be mixed throughly before adding MEKPO as a hardener. (Because some pre-mixed additive might have sunk down.) Usually 1-1.25% of MEKPO is suitable. If using more than 2% or less than 0.8% of MEKPO will result in a decrease in hardening properties and the workpiece won't be as good/strong as it should be.

Making workpieces with Norester RM2000/50
Our tooling resin has low viscosity, makes it easy to work with at the ratio of 4 to 1 resin to glass fiber. After applying the first layer, it should be applied with 3-4 layers of chopped strand mat fiber 450 g/sqm. continuously. (Total glass fiber+resin amount is 1300-1800 g/sqm.) You should work at once before the resin hardens. After those 4 layers hardens and has cooled down, you will be able to add additional layers of 1800-2100 g/sqm according to the desired thickness of the mold.

Full hardening of NORESTER RM-2000/50
Norester RM-2000/50 is a fast curing resin with a very short solidification period. When the workpiece with 4 layers begins to harden, the temperature will rise to 50-60 °C, and the changing of color of the resin will be noticeable. The color will change from light brown to white or lighter in color when the fully cured and resin has cooled down. You can lay another 4 layer immediately.

Reinforcing the mold and reinforcing materials
The reinforcement to strengthen the mold by inserting reinforcing structure. It can be done like any other composite mold reinforcement. This can be done immediately after the mold shell has fully hardened and cooled to room temperature. You can reinforce as soon as the mold is cooled and that will not cause any warping. Therefore, it is not necessary to wait a few days for the mold to completely solidify like the other molds made of normal resins.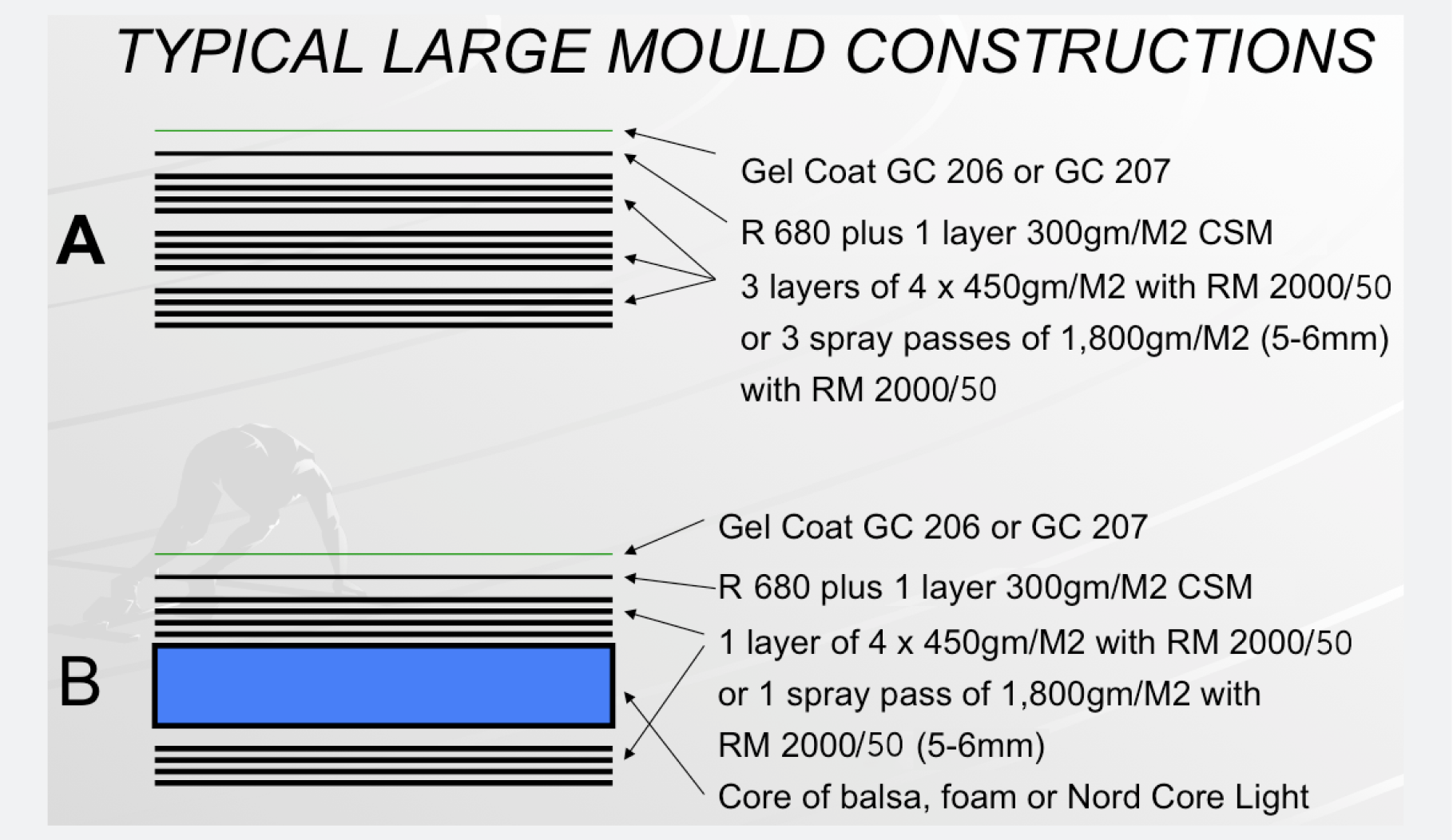 Mold life and material selection
The lifespan of the mold depends on various factor, including the method of making the mold, selection of materials, and how to treat the mold while working to create a piece. Therefore, this advice is only a guide. However, from the statistic and experience, we know the lifespan of the mold in working conditions with the system of Nord Composites as follows
• Isophatalic gel coat & Norester RM 2000 can be used for up to 250 times.
• Vinyl ester gel coat 207 & Norester RM 2000 can be used for more than 500 times.
• Vinyl ester gel coat 207 & Vinyl ester R680 layer 1 & Norester RM 2000 can be used for up to 1000 times.