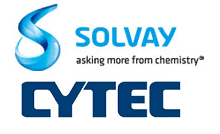 Cytec Industries Inc.
Cytec Industries Incorporated, based in Woodland Park, New Jersey was a speciality chemicals and materials technology company with pro-forma sales in 2004, including the Surface Specialties acquisition, of approximately $3.0 billion. Cytec is a result of its spin-off from American Cyanamid Company.
Cytec has about 4,600 employees in Europe, North and South America, Asia and Australia. In December 2015, Solvay S.A., a Belgian multinational chemical company, acquired Cytec Inc. for a purchase price of US$5.5 billion.
Delivering Technology Beyond Our Customers' Imagination®

Cytec's vision is to deliver specialty material and chemical technologies beyond our customers' imagination. Our focus on innovation, advanced technology and application expertise enables us to develop, manufacture and sell products that change the way our customers do business. Our pioneering products perform specific and important functions for our customers, enabling them to offer innovative solutions to the industries that they serve. Our products serve a diverse range of end markets including aerospace and industrial materials, mining and plastics.
Key Markets:
• Aerospace
• Mining
• Automotive
• Agriculture/ Agrochemical
• Defense
• Electrical/Electronics
Cytec's aerospace prepregs and resin systems are the industry standard for stiffness, impact resistance and thermal performance. We offer flexible processing options to enhance design freedom and lower manufacturing costs. Our knowledgeable, experienced technical support and account teams help our customers develop complex and comprehensive aerospace composite solutions. Our aerospace prepregs and resin systems portfolio includes:
Thermoset Prepregs
Thermoplastic Prepregs
Preforms and Resin Infusion Systems
Cytec's products are available to view through our Selector Guide. This database of products allows customers to search for products on end use application, material type and performance characteristics.