ROBUSO Stahlwarenfabrik Buntenbach & Sohn GmbH.
Today, ROBUSO is one of the innovation drivers in the industry.

When our customers from the automotive, wind turbine manufacturing, maritime and aviation sectors, as well as the textile and leather processing industry, introduce new textile materials, we develop the cutting solutions for them.

We are also happy to advise companies that want to optimize the cutting processes in their process chains.

Talk to us - we will provide you with tailor-made solutions for your project.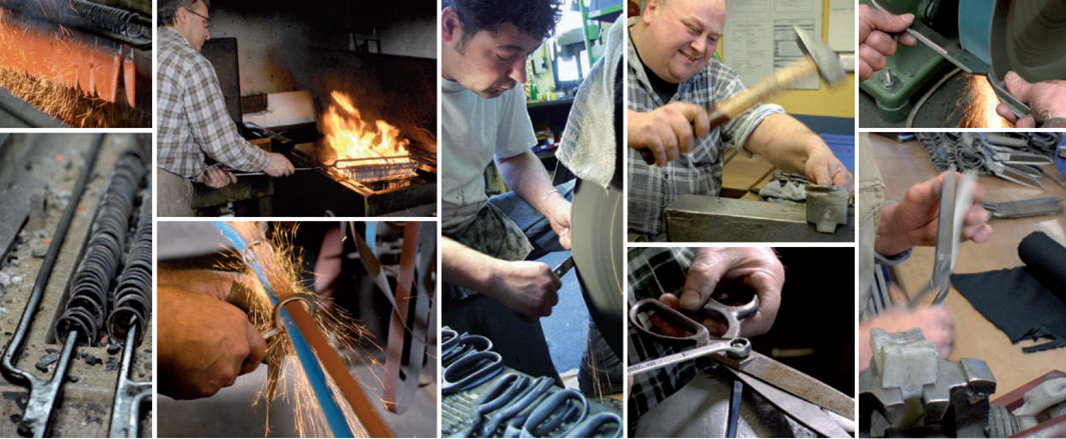 ROBUSO is the brand for our top quality, which far exceeds the quality features of the SOLINGEN law and the DIN regulations (Solingen is called the "City of Blades", since it has long been renowned for the manufacturing of fine swords, knives, scissors and razors). Depending on the model, ROBUSO scissors are hot-forged from steel or C60 carbon steel with a high degree of purity. Only C 60 steel with a particularly high carbon content is used for these exceptional industrial scissors. The scissors have a hardness of 57-59 HRC, which guarantees above-average edge retention. After the forged raw material has been hardened, the scissor blades are pre-ground on modern wet grinding machines from the inside and outside, with a clear hollow grind being produced on the inside. The degree of manual work is 80 - 85%.
Our work is based on more than 100 years of family tradition - and on the skills of our employees, who share their passion for high-precision scissors and cutting solutions with us. The result is around 350 products made in Solingen, which we manufacture like in a factory. To this day, certain cutting tools are manufactured with a high proportion of manual work. And that's a good thing - because this is how particularly durable cutting solutions are created that withstand the highest demands.
After that, experienced grinders grind and polish (=fine grind) the scissor blades and the scissor handles by hand from the inside and outside. The polished steel surface is then refined by giving the eyes and handles of the scissors, as well as the blades on some models, a high-gloss nickel finish. In order to create an extremely sharp cutting edge (waste), the nickel is then ground away from the inside of the blades. Both parts of the scissors are then carefully screwed together by the nailer. The scissors are straightened and the edge sharpened. Grinders and nailers ensure the typical smooth, smooth action of ROBUSO scissors. Finally, there is a careful 100% final inspection. Every pair of scissors is tested on the material they are supposed to cut: nettle, lining silk, wafer-thin curtain fabric, glass and carbon fibre, aramid. It is checked whether it cuts perfectly from the back to the tip without pressure. That's why our ROBUSO scissors can rightly claim the grade "master quality".

ROBUSO Stahlwarenfabrik Buntenbach & Sohn GmbH.