Today, most of the boats are made of 4 materials, i.e., Aluminum, Steel, Fiberglass, and Wood. Modern ships (big boats) are usually made of steel or aluminum or both, and small boats are made of fiberglass or wood or both. Still, some boats are made of other materials, but those 4 are used widely.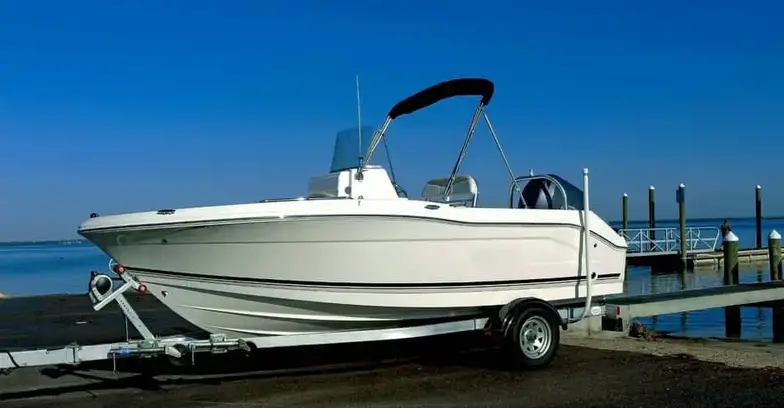 Small boats like jetboats, bay boats, center console boats, deck boats, cabin cruisers, etc., are usually made of fiberglass. But, ships (big boats) are usually made of metals like steel or aluminum since they have to handle more weights and overcome harder environments than small boats.
Fiberglass had greater advantages over wood when it was first introduced in terms of cost and durability. For example, a wooden boat's construction and building take 10,000 dollars, whereas the same boat with fiberglass would take anywhere between 3,000 dollars to 5,000 dollars, which is cheaper.
Fiberglass is stronger than wood and does not need to be caulked to be waterproof when the proper gel coat is applied. Since fiberglass is stronger than wood, the boats' hulls can be made thinner and the inside area larger. This is very good from the view of someone looking to buy a boat for recreational purposes.
Benefits of using fiberglass in boat construction (building)
A fiberglass boat is more corrosion resistant in nature than a boat made of other materials like steel. Since there is no metal anywhere on the hull exposed to the water, corrosion doesn't happen on a boat made of fiberglass (but marine growth is common).
Fiberglass boats are easy to maintain than a boat made of other materials like steel. Since corrosion isn't a problem on a fiberglass boat, it reduces half of the maintenance works and costs; the only maintenance is required for growth on the hull.
Fiberglass is more malleable than a boat made of other materials like aluminum, wood, and steel. Manufacturers may make an entire boat frame out of 1 or 2 parts by molding fiberglass in the mold, while steel or aluminum, or wood would take thousands of parts. This alone makes fiberglass ideal for the production line.
Drawbacks of using fiberglass in boat construction (building)
Fiberglass boats cause blistering (osmosis) when the water passes through the gel coat and forms a dome-like structure under the gel coat due to some chemical reaction between the water and under the gel coat. It will destroy the look of the boat and damages the hull's paint (if any).
Fiberglass boats weigh more than a boat made of wood. However, a fiberglass boat can't be heavier than a boat made of steel, but there are stronger than a boat made of steel.
Other materials used in boat construction (mostly very small boats)
Fiber reinforcement plastic (FRP) is used in personal watercraft (Jetski, Sea-Doo, and WaveRunner) construction.
Molded polyethylene (plastic) is used in a kayak and sometimes in canoe construction as well.
PVC and rubber are used in inflatable ribs construction. If it is just a dinghy, then only rubber is used.