Alan Harper Composites
อลัน ฮาร์เปอร์ คอมโพสิท เป็นบริษัทที่เกิดจากประสบการณ์ในวงการคอมโพสิทกว่า 42 ปี ของตัวอลันเอง เพื่อแก้ปัญหาความยุ่งยากในการทำคอมโพสิทให้ได้มาตรฐาน และลดขยะมากมายที่เกิดจากวัสดุสิ้นเปลือง เขาจึงได้คิดค้นระบบแว็คคั่มด้วยถุงซิลิโคน ซึ่งใช้ซ้ำได้นับ 1000 ครั้งขึ้นมา จนทำให้เทคโนโลยีของเขาได้รับรางวัลมากมายและมีชื่อเสียงระดับโลก
Alan Harper Composites Ltd. is a specialist closed moulding technology innovation and production house. Offering business to business revolutionary composite production advances while providing the closed mould and composite plastics fraternity with the world's most cost effective and efficient technology. We have designed and produced a world class reusable silicone membrane closed moulding system that removes permanently the need for costly and environmentally unsound use and disposal of one-time-use composite consumable membranes and waste.
ระบบ fiRST silicone vacuum (Fibre Infusion Reusable Silicone Technology) คือการนำซิลิโคน
มาใช้แทน vacuum bag ซึ่งสามารถใช้ซ้ำได้ มีอุปกรณแว็คคั่มฝังอยู่ครบ เพียงเติมปีกโมลเดิมเล็กน้อย
ทำไม? คุณจึงควรใช้ fiRST silicone vacuum
1. สามารถใช้ซ้ำได้มากถึง 1200 ครั้ง โดยไม่ต้องซ่อมบำรุง ทำให้สามารถลดค่าใช้จ่ายได้อย่างมีนัยยะสำคัญ
2. สะอาด ทำงานง่าย รวดเร็วกว่า ไม่มีขยะ ใช้คนเพียง 2 คน ที่ไม่มีประสบการณ์
3. ไม่ต้องใช้วัสดุสิ้นเปลืองเหมือนระบบ vacuum ทั่วไป เช่น bagging film, sealant tape
4. ไม่ต้องกังวลเรื่องการรั่ว เหมือนระบบแว็กคั่มทั่วไป และเรซิ่นแทบจะไม่มีโอกาสรั่วออก
5. ไม่ต้องใช้ความสามารถ/ประสบการณ์ มากเหมือน hand lay-up หรือระบบ vacuum ทั่วไป
6. คุมมาตรฐานชิ้นงานได้ง่าย
7. สามารถเข้าซอกหลืบซึ่งระบบ vacuum ทั่วไปทำไม่ได้
8. ทนความร้อนได้ถึง 240°c จึงเอาเข้า เตาอบ/auto clave หรือฝังฮีตเตอร์ในตัวได้เลย
9. ไม่ต้องใช้น้ำยาถอดแบบ
10. ใช้ได้กับทั้ง pre-preg และ liquid vacuum
11. ใช้ปริมาณเรซิ่นน้อยลง
12. ไม่ต้องใช้เครื่องฉีดเรซิ่น
13. รอบการผลิตเร็วกว่า LRTM
14. ถูกพิสูจน์แล้วว่าปลอดภัยสำหรับการผลิตชิ้นงาน aerospace
15. มี intensifiers ในตัว เพื่อเพิ่มแรงแว็กในซอกหลืบหรือมุมกลับ
The fiRST (Fibre Infusion Reusable Silicone Technology) silicone vacuum system is
the system that you replace vacuum bag with our silicone membrane, where you can reuse
the membranes plus all the infusion consuables are included within the membrane.
Why you need to consider vacuum membranes:
•Reusable Vacuum membranes bring major cost saving.
•They significantly reduce waste.
•Lower skill levels required to produce consistent parts.
•They provide faster production.
•Zero maintenance up to 1200 cycles for polyester.
•Can be used repeatedly at high temperatures (240C).
•Proven safe for Aerospace applications.
•Provide higher vacuum security.
•Provide built in intensifiers.
•Easy to maintain standards.
•Easy for hard-to-reach corners for normal infusion.
•No release needed for silicone. It doesn't stick to anything.
•Can use with both prepreg and liquid vacuum.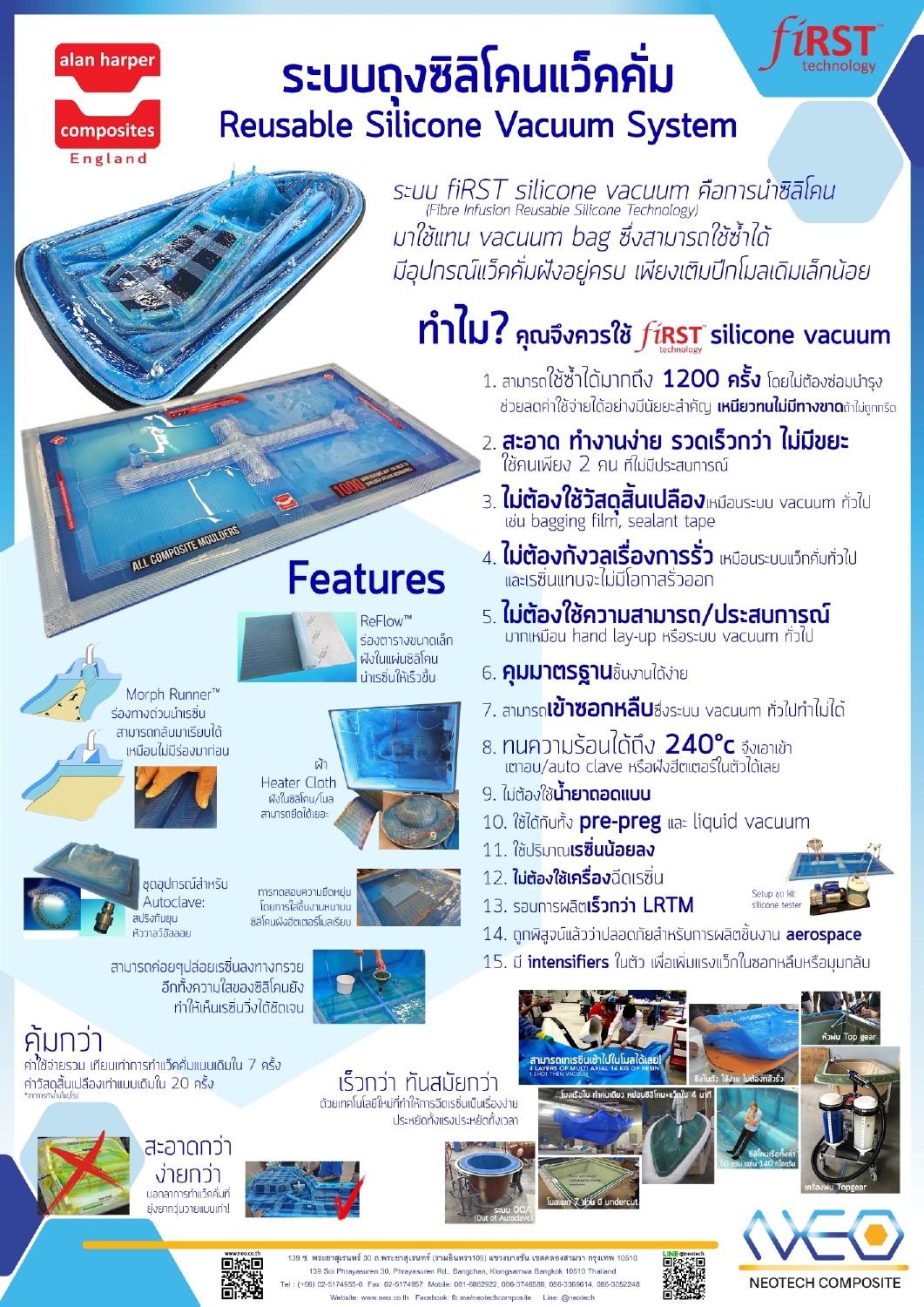 fiRST- film infusion Reusable Silicone Technology
The fiRST system provides the more cost effective solution to infusion moulding by employing reusable membranes, which replace consumable films and incorporate many other infusion film requirements including seals, resin feed channels and vacuum porting into the reusable fiRST membrane (vacuum bag)
Specialties
fiRST – revolutionary reusable silicone vacuum membrane technology, SilCon spray machine solutions, Vacuum pumps, Embedded heating , embedded breather , unique hidden resin runner systems . on site training, High quality approved platinum silicone supply and additives
Prepreg. Advanced composites
Our reusable vacuum membrane technology is equally economically advantageous for use with pre preg production techniques in or out side the autoclave as it has a working temperature up to 240C
SilCon
Our SilCon machine range offer economic silicone film spray solutions which are entirely air operated and boast almost zero maintenance requirements . We also provide a full range of unique silicone membrane ancillaries to equip the mould builder with every building block specifically designed for this new reusable membrane production technique
ตัวอย่างชิ้นงานที่ผลิตออกมาแล้ว
ด้วยเทคโนโลยีซิลิโคนของเรา
These are just some of the products that have been manufactured using our technology:
รถไฟความเร็วสูง ICE Intercity Express ในประเทศเยอรมัน
การผลิตชิ้นส่วนคอนโซลเรือ ที่มีรูปร่างซับซ้อน
Complex geometry marine console
เรือใบแข่ง
Racing Keelboat Hull & Deck – Total Surface Area 42m2
Article from Alan Harper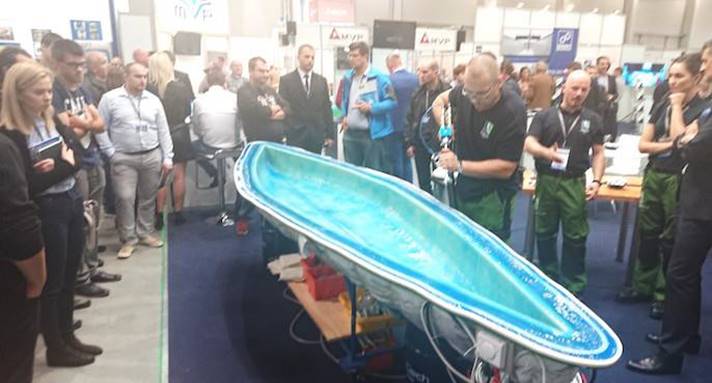 Radical change in composite moulding

"Reusables establish new direction for composite moulding "

Reusable alternative replacement of consumable vacuum membranes (vac bagging) for composite vacuum moulding continues to become more popular as moulders realize they are able to potentially pay for themselves within 3 moulding cycles. This fact raises the question why the whole composite moulding community and "his brother"does not immediately embrace this technology advance?

There is always resistance to change and still potential clients who feel that if reusable membranes are as good as they claim then why is it that not everyone is using them? Fear of change, too good to be true, consumable bagging suppliers downplaying their cost saving, fear of bagging skills being outdated - there are a plethora of excuses for not changing to reusable membranes but it is like the relatively recent historic change from film photography to digital. For example, Kodak. Ilford and Fuji probably had a similar mindset when digital photography and cameras came onto the market. Seemingly "overnight" the entire chemical film industry became redundant.


Similarly, Nokia phones experienced a serious market loss after being number one in mobile phones due to Steve Jobbs iPhone. This decimated Nokia's market lead overnight through Apple's innovation and phone apps.
Reusable membranes are changing the composites industry as one of the most viable alternatives to the higher cost closed mould processes of RTM and LRTM and unsound, single-use consumable vacuum bagging infusion. The floodgates of change are opening and those who feel it is just a fad may think so at their own commercial peril.

Trading in this sector of vacuum reusable membranes for over 7 years and yet previously known as specialists in closed mould RTM and LRTM for over two and a half decades we feel absolutely correct and true in bringing the good news that reusables have a significant role to play as an alternative moulding process. The main issue here is that the moulding company who employs closed mould RTM and LRTM and maybe also traditional infusion processes could be loosing out to this radical shift in closed mould process change.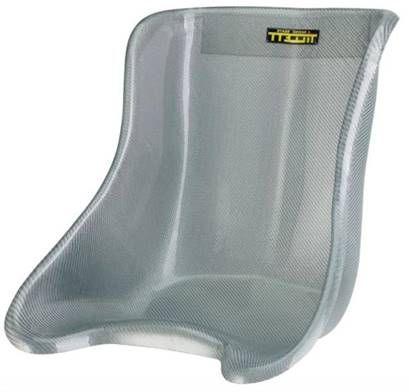 the moulded component but only one.
To be absolutely clear in this narrative we point out there is no claim that reusable vacuum membrane are the alternative panacea moulding process to replace RTM , LRTM or traditional Infusion processes. However, each, in many cases can be performed with lower cost due to significant material and labour savings and lower tooling amortization costs. The disadvantage, if indeed it is considered a disadvantage in every case, is that they do not provide a perfectly smooth engineered surface on both faces of
Tillet racing seats reported that for them, reusable membranes had a marked advantage over their traditional in-house LRTM process. Before they had individual back face moulds for each of the different fibre seat layup schedules they needed whereas with one reusable membrane was sufficient. It eliminated the need for multiple B face LRTM moulds as the one reusable membrane could accommodate a range of different fibre ply layouts and thicknesses. They also reported that the process achieved remarkable resin saving whilst 6 identical CNC trimmed parts of 700 g were within a remarkable 10g variation of one another
Clients worldwide are delighted with the result of taking on the reusable membrane technology.

A very progressive client of Poly-Matrix Llc, our Hungarian dealer persevered to mould very large tanks of nearly 50m2 with 130 kg resin in 20 minutes per shot. The client carefully thought through and designed membrane handling and lifting systems so that once all the fibre had been laid down two men could lower and vacuum seal the reusable membrane in less than 15 minutes before proceeding with the resin connections and infusion process. Interestingly this moulder applied the built-in resin feed system using our Morphing™ resin runners with a distribution length, including branches, totalling 35m. These eliminate the need for peel ply and time-consuming, wasteful and difficult to remove consumable one-time use spiral wrap resin feed.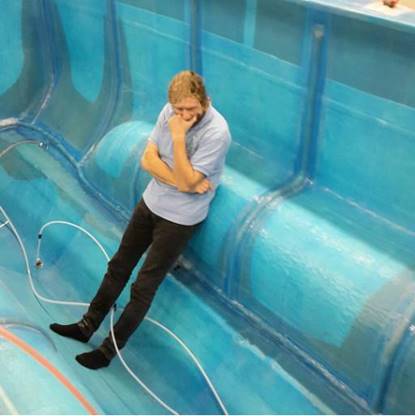 The result of using Morph feeds is that there exists no hardened resin feed witness after cure on the back side of the part as the channel in the membrane is signalled to flatten against the laminate once the liquid resin has filled the fibre cavity.


So what are the main advantages reusables bring? First how long do they last.? Reusable vacuum membranes can last over 1200 uses as reported by Pipeco Sdn Bhd. in Malaysia. Within their lifetime ZERO maintenance is required or need for application of any release agent or surface rework. This alone, in comparison to rigid or semi rigid RTM /LRTM matched tooling means that within their lifetime the elimination of maintenance costs would easily amount to the entire cost of reusable membrane tooling.. ( Circa average £160/m2 (US$ 21/ft 2)and average build time of 2 man hours per m2 (10ft2)).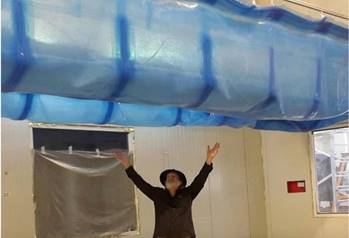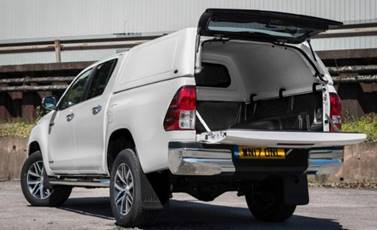 Auto Styling Truckman Group developed the process to achieve one-shot moulding of their vehicle canopies which require the complex face mould split into 7 sections. Using a single seamless but 3 dimensionally moulded membrane allows one-shot infusion. Furthermore, the interior surface will bond well to a flow coat without any sanding required. Split face tool design
Reusable membranes incredible ability to handle complex moulding geometry means they are seamless vacuum secure even in major negative draft /undercut designs which brings them into their own performance league.



requires the flange sealing to provide vacuum between seal and gel coat to prevent potential gel coat pre-release

Reusable membranes can be laid down upon the dry fibre pack in sequential stages meaning there is less chance of disturbing the dry fibre preform and nudging it out of place. This concern is feature is especially important for dry fibre on vertical mould walls.

Reusable membranes can accurately handle different fibre pack loading and core variations without concern as would be the case of semi-rigid RTM type tooling which often will not work due to changes in predicted flow should the user change the layup schedule or worse have inaccurate pre-machined core materials for a sandwich layup.

We could go on but what is apparent is that such advantageous claims are totally true and
substantiated by many moulder's experiences.


NISSAN SERENA FRONT END produced in complex 8 part mould by VPI

CTIM – Leading Malaysian Auto body parts manufacturer chose Vacuum Press Infusion for the new front end Serena MPV model from Nissan and tuned by Hoshino Impul Co., Ltd ,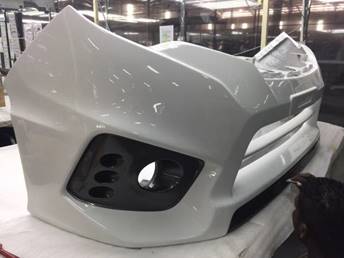 Raymond Siew, CTIM's managing director, said "the success of production moulding such a complex part in the closed mould VPI process using reusable vacuum membranes has now led us to further development and production application many of our other auto aerodynamic parts. We achieve more consistency over our former hand lay operation with greater production speed and
almost net size, low wastage moulding." CTIM were trained in VPI by our Malaysian technical
SIFT center led by TK Lim in Cheras, Kuala Lumpur.
CTIM's attention to detail and technical excellence in achieving series production, which in our opinion has led to one of the most complex closed liquid moulding composite parts we have ever witnessed.

Henry Nicolson-cole, Project manager at Norco Composites says that for prepreg, the 'debulking process' whereby one has to pull an ambient vacuum to consolidate plies before moving to the next stage radically makes an advantageous case for Silicone reusable membranes, from both quality and cost perspectives.





Some prepreg parts may need large numbers of debulks (roughly one debulk every 3-4 layers), particularly for out of autoclave work where the luxury of 6 bar autoclave pressure to consolidate is not available. It is then reusables are all the more important.

Suddenly the payback on a Silicone membrane, even before the saving of man hours becomes evident after around 6 parts. The more complex the shape often the more viable a reusable vacuum membrane process becomes. The membrane can also be used as a final curing aid, and helps to locally intensify any corners or other details where "bagging" bridging may otherwise occur using conventional disposable
bagging. The ACC Silicone VBS26-35 used has a heat service maximum of 240C

Sean Conneely, Manager of Tooling for Formashape / White Water Composites in Kelowna, BC, Canada explained they have been using the reusable membranes systems since 2013. Starting out small and using them on a production line of 12 moulds with 2 membranes each, they generated 200 complex parts per week using the system, with a total of 9600 over the course of the customer's program without duplicating any of the tooling.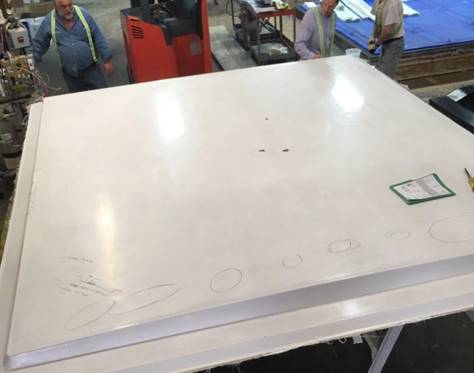 Formashape sees this technology filling more roles over traditional LRTM manufacture.With their recent reusable membrane development on very large surface panels for a communication tower project in British Columbia. The reusable VPI moulding system's consistent control of resin to fibre ratio has proven to give exact
thickness and weight from part to part . " we really only scrapped our first part, as it was also a learning exercise " states Conneely. " Once we dialled in the process, we generated 50 very large unique shapes, from 5 different moulds. Each part released, required no post finishing other than slight trimming and hole indexing. We also achieved all this with only 4 workers.

Currently, the company uses reusables on everything from small complex waterslide shapes, to large raft boats and log flume rides . " its simplicity to produce consistency part to part with an average skill set employee and the savings it can provide, are too good to pass up on". Formashape will more than likely consume over a ton's worth of silicone building membrane's in 2018 alone, a huge step forward from 120 litres it consumed in 2013.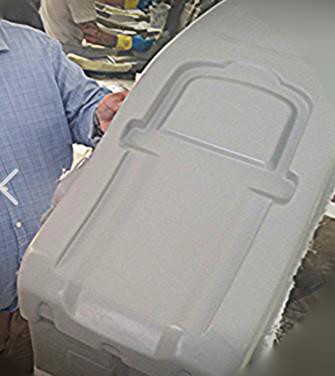 Dartford Composites Ltd in UK took on silicone resuasables 2 years ago. Managing Director, Mark Silvestor explained whilst initially staff were sceptical about its worth once they used it they realised how much easier it was to use. The quantity of items per day will depend on a number of factors. We moulded 5000+ seat shells in a class one fire retardant resin using 10 hard moulds and 6 silicone moulds. Two people were moulding 30 items per day with a reject rate of lower than 1.5%. And those rejects were generally saveable. The two people using these moulds were unskilled staff and not experienced laminators. The base moulds were treated with PMR on a weekly basis. No treatment of the silicone was needed. Waste was a major benefit once the job was set up correctly each seat only had about 150 grams of waste.



Wrightbus in Northern Ireland has traditionally incorporated either hand lay-up or LRTM in the manufacture of composite parts for the exterior and interior of their products. The company's preference would be to manufacture all parts in a closed moulding process due to the advantages it brings, however, due to tooling costs this is only possible on a limited number of parts where the quantities versus expected lifetime create a suitable business case.





With the Silicone membrane technology, which they have incorporated since 2014, has enabled them to convert many more parts over to closed moulding due to the cost and speed benefits the manufacture of the B surface by rapid silicone membrane has brought. Along with this, they have been able to nest multiple parts
together which brings increased cost benefits and output. Reusable bagging has now become the number ONE closed moulding process in their composites manufacturing facility in Ireland and they envisage this trend will continue to grow.


Alan Harper, Alan Harper Composites